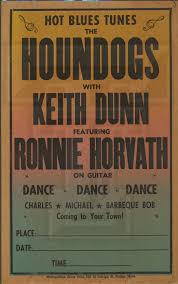 Look what I got. Here is one of the earliest posters that I have seen from one of my concerts.
A friendly fan found a photo on the internet and sent it to me. Notice the name Ronnie Horwath. You probably know him as this was back in the day before this great guitarist changed his stage name to Ronnie Earl.
We had a great band. We played blues in the Otis Rush, Magic Sam, Jimmy Rogers and Muddy Waters style. One of our highlights was working for 2 nights with the legend, Big Mama Thornton at The Speakeasy in Boston. She loved the name of the band.
We continued to jam after the band broke up and had many great nights together when I joined Roomful Of Blues. If Ronnie Earl comes to your town, check him out.
If you have posters or photos from concerts, I would love to see them. Let me know here keith@keithdunn.com. Thank you.
Back In The Day With Ronnie